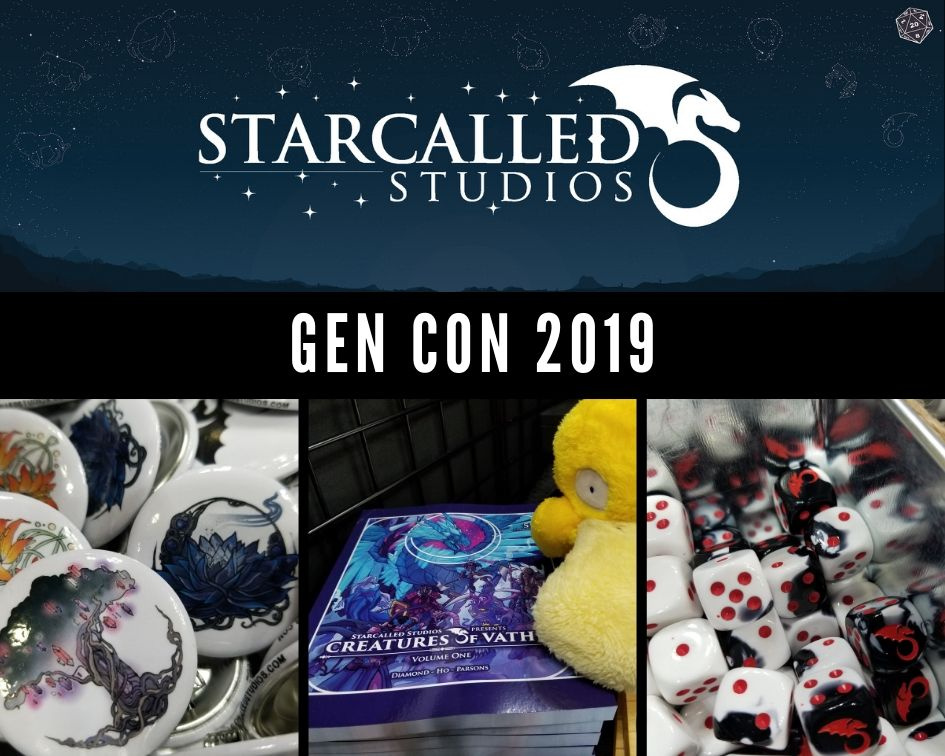 It's the most magical time of year – Gen Con. Okay, maybe not the most magical time of the year, but it's a great time of year for a lot of people, including us. 
New things! This year was our FOURTH year as exhibitors, that's crazy. While being at Gen Con and in the hall is something we're familiar with, this year held a lot of newness. First, we were in a new location! For the past two years, we were in the 500s, but this year we moved to the other side of the hall and were in booth 2139. It was a welcome change with the only downside being we were pretty far from the exhibitor entrance and bathrooms. A benefit, many Pokemon Go eggs were hatched. 
Also this year, we had a semi-new set-up. We used our DIY booth that was made last year and had brand new grid walls! We moved from shelves to hanging baskets for our books to allow for more space and less to trip over in the booth. We retired our old floor tiles and purchased new ones that will last a few years. Our biggest booth change was co-exhibiting with Moe Balinger, our Creatures of Vathis cover artist. We really appreciate all the love Moe was given, this was his first Gen Con and he was really blown away by the convention and the people. 
Finally, our biggest company change – we added the printed version of Creatures of Vathis to our lineup. With adding CoV to our shelves, we saw several familiar faces and some eager new patrons ready to fight the creatures that are found in Vathis. We love expanding and hearing stories of your Zodiac Empires campaigns only fuels our want to keep writing. We've always wanted our world to be ever-changing with your stories in mind. 
Wednesday, 7/31/19 – Set-up
We left home around 8 am and arrived in Indy before 3 pm to start set-up. Set-up this year was a little slower than previous years due to our new booth configuration. We were lucky that our neighbors were mostly settled so we could use the walkway for some of our boxes while we set up. The floor went down and then the walls went up. Once the walls were up everything else was a breeze. 
After set-up, we planned to have dinner with a few of our Indy friends at Burger Study to revisit the delicious Stranger Things burger. As expected, the wait was 90 minutes. We were starving, so while waiting we went to Pearings Café and Frozen Yogurt, our Gen Con froyo tradition. We were able to get into Burger Study after an hour, we ordered our food, and enjoyed the company of our fellow Starcalled. Dinner had a few hiccups, but we made it and it was mostly as expected (more blueberry jam please). After a long day of travel, set-up, and socializing we checked into our hotel and settled in for the night.
Thursday, 8/1/19 – Day 1
The first day of the convention was much busier than a traditional Thursday. The hall was buzzing and it was difficult to navigate through the con-goers. Brad was able to capture video of the doors being opened and Ashley dipped to pick up Chessex lab dice before the mass of people made their way to hoard click-clacks. Joe quickly secured his colossal red dragon which was his personal goal for the con. The food trucks were on point, but it was very hot outside. Dinner was a treat! A few years ago we found a pizza place in an alley and we couldn't find again…until this year. Our secret alley pizza, better known as Pearl Street Pizzeria & Pub, was busy and a little warm but they have amazing pizza. If you're in Indy, you should check it out. Once we were back at the hotel, we descended into sing-a-long madness and eventually went to sleep. 
Friday, 8/2/19 – Day 2
Friday was busy, wow. This was the busiest Friday we've experienced. As this is being written, official turnstile information hasn't been released, but there have been reports that con growth was significant this year. The hall was buzzing and in our slice of Gen Con heaven everyone was well-behaved. It was very difficult to get around in the hall but we managed to sneak out when there were small gaps in the crowd. We met a lot of great people, found an amazing food truck that had the best bubble tea ever, and settled into dinner at a bar that we've never been to but would go to again. 10/10. Brad, JP, Joe, and Moe took to the streets on scooters, while Andrea and Ashley stayed safe and walked back to the hotel. We live-streamed a mini unboxing, the guys played a board game, and the girls looked at puppies on Instagram until it was time to sleep.
Saturday, 8/3/19 – Day 3 *Happy Birthday, Rachael!* 
Saturday was a repeat of Friday: busy and a lot of people. We missed having Rachael with us, especially on this day because it was her birthday. We worked hard, had more bubble tea, and talked to more smiling faces. We sent Andrea on a mission to get us a table at the Ram. It's been a few years since we've been to the Ram because it's always so busy. After the hall closed we met up with Andrea and had dinner. Then came Brad's Gen Con moment, after much individual scooting and group encouragement, we all scooted back to our hotel. If you were in Indy and didn't use a scooter, you missed out. The evening was all work, a little play, and a Discord call with Rachael. Gen Con often leads to crazy product ideas, so Saturday night we sat outside and fleshed out a few ideas. You may or may not see these in the future. After brainstorming, we went back to our room to pack up and prepare for the final day of Gen Con. 
Sunday, 8/4/19 
Sunday morning started with the daily wake-up routine. After we put ourselves together we began to clear out our hotel room, taking all of our stuff to our vehicles and walking to the convention hall for the last time. Sunday was odd. We all had a feeling that this con was different than the past few, maybe due to the sheer number of people, but Sunday was just strange. It was fast and slow at the same time. We each did a final walk-through of the hall to find any treasures we may have missed. A little after 3 pm, Brad and JP left to start the marshaling process so we could leave quickly. And then just like that, it was done (without bubble tea, where were you bubble tea?). With a cheer from the exhibitors after the hall was closed, we began to pack up. We deconstructed our temporary home, packed it into a U-Haul and told Moe goodbye. Then we embarked on our 5-hour journey home. 
Not to be overlooked – we'd like to give a very big thank you to our Gen Con GMs. We love having our adventures available to play and without you, we would have fewer new Starcalled in the world. 
So what's next? 2020! Gen Con is always a memorable experience, typically a good one. It's fast-paced and it feels like you put in so much prep for something that's over in the blink of an eye. We're always happy to see you and hope you like seeing us as well. To our Starcalled family, thank you for your support, your interest, and your love. While we love what we do, we do it for you too. See you next year Gen Con, hopefully in the 2100s again. 
Gen Con Video
As mentioned above, we took some video of our time at Gen Con. Below are links to the hall opening on Thursday and a walk-through of the exhibitor's hall floor from the doors to our booth.