D&D Community Spotlight 001:
Runehammer (Formerly Drunkens and Dragons)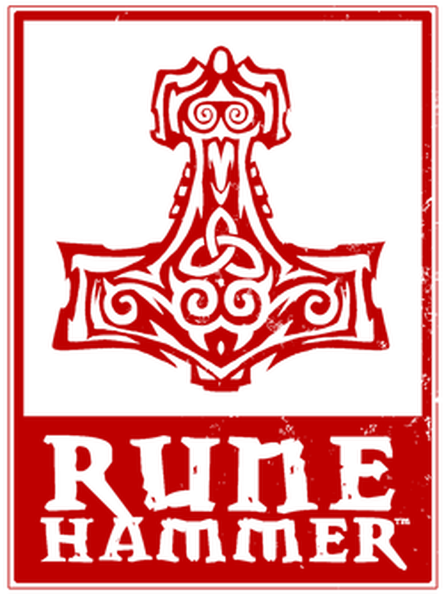 Official Bio
Brandish Gilhelm is a Dungeonmaster, artist, and writer from the Seattle area. A life-long teller of fantasy epics, in the last two years he has gained a following of like-minded heroes-to-be via 'Drunkens & Dragons' on YouTube, and through books and game products like 'Iron Heart,' 'Index Card RPG,' and other tabletop products at Runehammergames.com 
Gilhelm's degrees in Anthropology and Philosophy lend a gravity, a depth, and a poetic flow to his work, as evidenced by numerous 5-star reviews and loyal readers. Currently, a third Runehammer book is underway, titled 'Of Wolves and Wonders' which continues the eons-spanning tale of Alfheim.
Let there be Grog!
When it comes to encounter and room design, very few people take the job as drunkenly serious as Hank (Brandish Gilhelm) from Runehamer Games. When I first decided to take the plunge into terrain building, I stumbled over to Drunkens and Dragons after seeing this YouTube channel being mentioned repeatedly – at The DM's Craft Forums and on many different subreddits. After watching Room Design: Corrosion Cave I was hooked. Hank is terribly funny and his creativity and passion for Tabletop Gaming is infectious.
Dungeon Master with a plan
After voraciously consuming all of the videos on room design, I moved onto some of the more conceptual videos – explaining Hanks very unique technique for building mechanics into every encounter. So often do we DM's fall into the trap of forgetting the world your players exist in is more than just shapes on a board. Every piece of his encounter design is meticulously planned in advance. That is not to say he railroads his players or otherwise impedes them at the meta level, just that so very little in each of his room designs goes to waste. For example – Room Design: Egg Hunt is one of the more creative ways I have seen someone build a great mechanics heavy encounter. The room design forces players to create opportunity and adds the ever-looming threat of a timer or danger dice. This keeps the players on their toes, focused and ready to react. There is so much to learn about encounter design from just this one video, that you would be doing yourself a disservice by NOT watching it.
Something Completely Unique – Index Card RPG
Running campaigns wasn't enough for Hank who created the unique Index Card RPG – a system that strips away a lot of the minutia and really brings quick and fast-paced gameplay back to the forefront. What is Index Card RPG you might ask?
Classic 7 dice, D20 roll-over system, and all the combat and RP mechanics, character classes, timers, targets and elements you need to play right away. This system is fast and fun, but doesn't lose track of the best parts of tabletop dice rolling.
The unique take on the game really does lend itself to fast-paced play, minimizes table distractions with beautifully illustrated art. I also love this comment from Scott G on the discussions page: This game is fantastic if you like Super Fast Running TRPGs with as much crunch as can fit without slowing the flow. After playing it a few times, I can honestly say that is an apt description. It was easy to pick-up, especially if you already know the rules of other D20 systems.
If you have yet to give Runehammer, Index Card RPG (ICRPG), or some classic Drunkens and Dragons a try – you are one LUCKY Wizard!