Community Spotlight 002:
Deven "Mistress of Maps" Rue
~ Fantasy Cartographer ~
Creatures of Vathis - Kickstarter is now LIVE!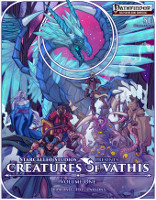 Creatures of Vathis: Volume One will contain over one hundred creatures that can be found in the world of Vathis. Though developed for our world, these creatures are versatile, and they can be used in any setting! Within this bestiary, you will find four new creature types: Vastborn, Living Eldria, Kami, and the Forsaken. You'll also find a variety of beasts, monsters, mounts, and companions, all itching to be a part of your game.
BECOME A BACKER TODAY!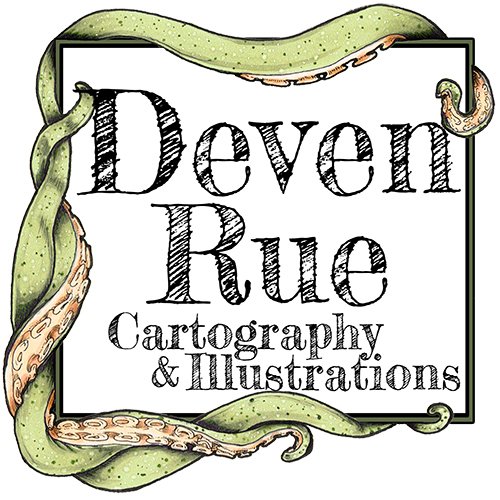 Starcalled Studios is a huge proponent of promoting quality creators in any way we can. We all subscribe to multiple Patreons, buy dozens of custom products on websites like Drive-Thru RPG or DM's Guild, and do our best to share, like and discuss those creators who deserve more recognition. So we decided to have a monthly community spotlight to feature prominent members of the tabletop and gaming community to show our appreciation for all that they do for us.
I present to you our second Community Spotlight featuring the incredible Deven Rue – The Mistress of Maps.
About Deven Rue – The Mistress of Maps
From her Patreon:
I make maps. Highly detailed fantasy maps.  I spend the majority of my time creating maps or the art associated with them like borders, compasses, sea monsters, vessels, etc.  I'm sort of obsessed but you'll find that out soon enough if you haven't done so already.
Deven has always been a passionate artist and gamer since she was 14. She has been drawing maps since the early days of her gaming, though she has only recently moved to full-time professional cartographer for the last few years. One of the primary tools that have allowed her to thrive as a full-time artist is the support she receives from her friends on Patreon.
As a fellow content creator, I can say that Patreon is one of the most important tools available to earn a living doing what we love while providing incredible rewards and resources to fans. Devon has leveraged the money she makes on Patreon to make entire worlds come to life. Her work is stunning and she makes it available to everyone through these generous donations.
Critical Role – Tal'Dorei Map
One of the first posts on twitter I had stumbled across about Deven was a tweet from Matthew Mercer who was enamored with her take on the Tal'Dorei campaign setting world map. This stunning work took well over 60 hours to create though Deven says it was worth every second! She took inspiration from the map in the official campaign setting and gave it a complete redesign using her totally unique style and the end result was nothing short of breathtaking.
As you can clearly see at a glance, the level of detail she puts into every single piece of work is staggering and her talent is top tier. Matthew Mercer, who worked with similar professionals to create his map during official production could not believe the level of work she put into this project, which was purely a passion project.
To Deven, it seems the work is worth more than any reward. Being able to share something she created with passion and love with the world is truly special for her. On her website RueInk.com you can find plenty of examples of her work for campaigns, fantasy settings and passion projects she has created over the years.
Beautiful Samples of Deven's Work
Q & A with Deven Rue – Mistress of Maps
How long have you been drawing Maps?
I've been drawing maps since I started playing D&D when I was 14, however, I've only professionally started drawing them a few years ago.
Where does your passion come from?
My passion comes from my love of fantasy worlds. I've spent so much of my life exploring them through movies, books, shows, and TTRPGs that I just love the idea of bringing them to life however I can.
What piece are you most proud of?
I'm proud of all my work. Each has something unique about them that I particularly love and that makes it impossible to pick a favorite.
Future projects that you are excited about?
Right now I'm just focusing on getting my map queue down to a more manageable state so I can create more worlds for people to explore.
How has Patreon helped you as a creator?
Patreon is an amazing platform that has allowed me to create art the way I always wanted. Because my patrons pay for my art to be created, it allows me to release versions of it to the world for free! And to me…that's pretty epic. I love the idea that we are all working together as a collective for the betterment of the community in giving them maps, art, and more to expand our games with.
What would you like people to know about your products, Patreon or other projects?
I think what I would want people to know was sort of stated with the previous question. I want to always emphasize that my patrons are helping our community by allowing me to offer versions of my art free to download, and equally importantly, that my work is being released commercially as well. I love how many new and exciting products we have going up on the internet for TTRPGs and if I can help people make those products look more appealing, I'm all for it!
Contact Details!
Patreon – https://www.patreon.com/DevenRue
Check out all of her work on her official website – RueInk.com
Give her a lovely tip on PayPal TipJar – https://www.paypal.me/RueInk
Find her on Twitter where she consitantly shares her fantastic artwork and musing on all things Tabletop.
The Skree
Background unknown - it's a secret!
I am The Skree – One of the most visionary wizards in Vathis! Also, the drunkest. I have been called "A serious threat to people of Average Intelligence" by the authorities from Osept to Leyathar. A man of many talents, most of which are magic. Except for the one involving -EXPLETIVES DELETED- which is always popular.